Selfies are arguably the biggest social media trend right now, and celebrities are obviously taking a part in the madness. It's obvious that celebrities and people with status get the most likes on social media, so we were interested to find out which selfies are the best in history. Keep reading, some of them might surprise you!
1. Ellen Degeneres and company at The Oscars.
Who doesn't love Ellen Degeneres? It was natural to choose Ellen to host the 2014 Oscars. She didn't disappoint, and neither did the selfie that she initiated and took. The pic with favourite stars including Brad Pitt, Julia Roberts, Julia Lawrence, Bradley Cooper and Channing Tatum instantly became the most retweeted pic of all time. We'd be lying if we said we didn't want to be a part of that crew!
2. Pope Francis and a bunch of teens.
No guys, this isn't a setup for a perverted Catholic priest joke, cut it out. But seriously, can you imagine the Pope of all people taking a part in some selfie action?! Seems crazy, but Pope Francis proved he wasn't too good, too old, or too conservative for it when he posed with some teens in front of the Vatican.
3. Miley Cyrus channelled her inner Lil' Kim.
Miley Cyrus is arguably the queen of crazy selfies lately, but this one still takes the cake. Her Halloween getup including a purple wig and pasties did Lil Kim better than Lil Kim could even do herself and generated over 1,000,000 likes on Instagram.
4. Justin Bieber and some monkey business.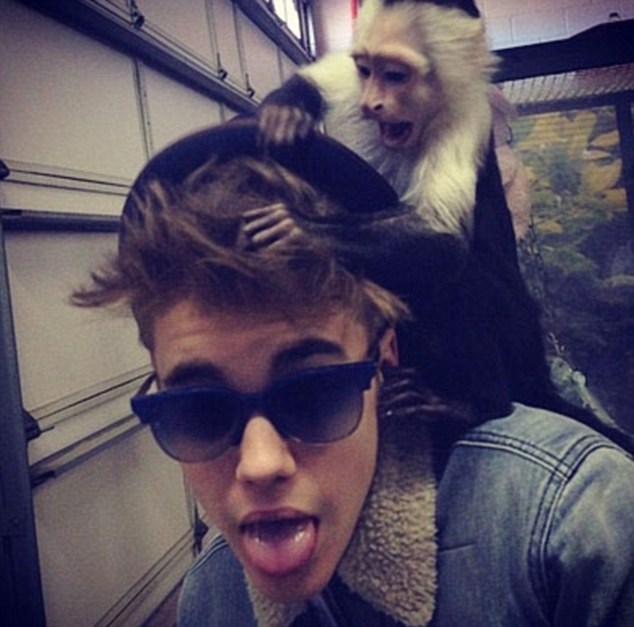 Like him, love him, or hate him, Justin Bieber is insanely popular right now. Obviously, he's a great looking guy, so who could blame him for posting a ton of pictures of himself? Well, this picture of him goofing off with a monkey on his head takes the cake.
5. Kim Kardashian and her buttocks blessings.
If you aren't aware of all of the junk in Kim K's trunk, you've been living under a rock for the last decade. It's no secret that Kim has a brag-worthy behind, but this pic of her wearing a white, bear all onesie was still jaw-dropping.